Safety the No. 1 criteria in Von Reth's book

19 Apr 2007 08:51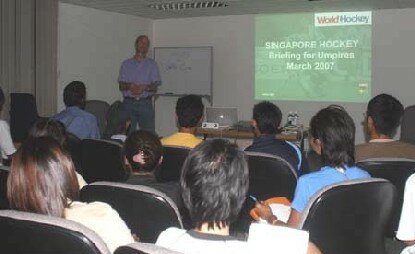 © Eddie dos Passos/Singapore Hockey Federation

When it comes to safety in field hockey, no one is more strongly for it than FIH Umpire chief, Peter Von Reth, who was in Singapore recently to conduct a clinic on the new rules coming into force this year.
By Eddie dos Passos/Singapore Hockey Federation
Von Reth, who is no stranger to the Lion City, feels that through the safety element, can the game progress further, attracting more players and spectators to the sport.
One area that he is particular about is the penalty corner where new technology has placed more emphasis on the umpire's decision making.
Discussing 2007 rules, Von Reth was pleased with two relevant features that he hopes will enhance the game to the public and help keep the interest of hockey very much alive.
The first, allows goalkeepers to have the ability to slap the ball away from the goal, something which in the past saw the custodian only able to deflect shots – the new ruling is especially interesting when the goal is under attack, provided the safety element is met.
"Making the game more exciting and simple is what any rule changes are about. Taking out restrictions which were in the same way not fair to the game," he said.
He cited the goalkeeper's role, which was to stop a ball entering the goal, and if done correctly and did not pose any danger, he felt it could help the game.
"For instances, the goalkeeper could not propel the ball with his hand but when you look at low level hockey, youth hockey or veterans hockey, at any level, it is a natural reaction to use the hands and when that happens, the umpire would blow for a stroke, but was the move any more dangerous," he questioned.
Another key change in the game provides teams with the choice of playing a goalkeeper or an 11th outfielder; previously the rule which states that if you have a goalkeeper, he must be in full attire (helmet, pads and protective gear).
Whereas, if an outfield player takes on a goalkeeper's role, he only needs to wear a different kind of shirt.
This player then has goalkeeping rights and can wear protective headgear when defending but he cannot exceed beyond the 23-metre zone with the exception that he removes the helmet before venturing out of this area.
If an outfield player does not wear a different colour shirt, he has no goalkeeping rights inside his defending circle and can only wear a facemask when defending a penalty corner for example.
"This new rule on goalkeeper choices opens up (tactical) possibilities and it is up to the team to make those choices, nobody says that you have to have a goalkeeper," he said.
"It does not bring the element of danger into the game, because it is the team/players themselves who make the choice. The Rules still allow you to have a fully equipped goalkeeper and we still recommend to use such."
"In many countries hockey is played at a level or in areas where they cannot afford or easily obtain a (full) goalkeeper's kit, so they are playing this way. Now we have opened up this ruling and it is a choice of the team," he said.
On the subject of this ruling, Von Reth said FIH relied heavily on feedbacks obtained from tournaments to help with the development of any rule and the benefits it provided for the game and to teams.
"We get feedbacks from tournaments, from coaches and players and also use statistics to know and understand what is happening and where we feel we must look at, with safety as the major topic to be ensured."
"Since there have been no injuries reported so far, this new rule definitely gives positive returns to the game," he said, "and it proves the teams are using the rule as we have meant they should do".
"What makes the goalkeeper rule more exciting, it allows teams the option of attacking or defending in larger numbers," he said.
As to penalty corners, with current rules and modern technology, it provided an ideal blend of excitement for spectators which have Von Reth's full backing, provided they met all safety criteria.
"We (umpires) have to think about the influence or danger of the penalty corner, both indoors or outdoors because the flicks are traveling at a higher speed in the game. The material of the sticks and pitches, have all contributed to a different penalty corner and an even more attractive game," he said.
But these were all parts and parcel of the game and he feels confident that the new technology and other aspects can only enhance the game's stature.
"These (technology and rules) are in fact all good for the game and while each change still have its own difficulty, we must always check on the safety aspects," he said.
Another rule that he feels strongly has influenced the shape of the game, is the abolishment of the off-side rule.
"It is a huge step for the game – it's been over 15 years at least since the off-side was abolished and it has only increased the speed of the game," he said.
Have whistle will travel, once best described what Von Reth did until the former world class international umpire retired after the 2000 Sydney Olympic Games.
It is only befitting that Von Reth is still doing the traveling scene, flying from country to country preaching what he knows best – umpiring.
Travelling to the other side of the world is as commonplace for the Dutchman today as making a trip to the corner supermarket and it's no wonder why – when you consider the man is in high demand for his expertise in the world of international and domestic hockey.
Von Reth is a well-known personality in world hockey and it's very common when you speak to the tall and lanky FIH Umpiring Committee chairperson that he has an explanation for every facet of the game and hence his regular trips to all parts of the world, contributing his expertise to umpires in the interpretation of rules and decision making when it counts most.
He was recently in Singapore to conduct a three-day umpire's course sharing FIH's views and listening to questions on the new rules and the interpretation to umpires of when to blow and why.
He was extremely pleased with the larger than normal turnout, as umpires hailed not only from the Lion City but traveling as far away as Hong Kong to hear the maestro in action.
"It is important to have at the starting level for umpires to do some proper coaching and know what is happening at basic level," said Von Reth, who watched umpires strut their stuff over a weekend of hockey action at Delta Stadium.
He was exceptionally pleased with the younger umpires Singapore were producing and expects more to emerge under Singapore's long-term umpire development programs.
"Very surprisingly that Singapore has a lot of new umpires emerging. It is a good development to see and they are all so enthusiastic," he said.
"That shows good development standards here especially the umpires I have seen before. They have become better umpires and are more confident in their decision making and abilities. It is good to see a lot of youngsters coming along," he said.
During his many travels around the globe, apart from conducting courses and attending FIH-sanctioned tournaments, Von Reth assesses prospective international umpires and their analyses of rules at the same time.
His latest trips have seen him fly off to China and with the Beijing Olympic Games just around the corner it becomes equally important to inject all the help FIH can provide for its Chinese partners.
"I am quite a regular visitor to China now and I hope they (Chinese umpires) can come and see the games played in other countries so that they can learn, so much is the same and applies to Japan and (South) Korea," he said.
More so for China and as clinics go, he said China's problems was the language and with that the understanding, but also providing adequate facilities for seminars and clinics in proximity.
"We must provide opportunities and exposure for the umpire to learn and gain experience," he said.
"It is not a problem in small cities like Singapore where transportation is within an hour's drive of the city, but when you go to China, umpires may have to travel up to two days by train or take a six-hour flight just to attend an umpire's clinic
Talking about next year's summer Olympics, Von Reth was enthusiastic regarding the latest rule changes and why FIH adopts a two-year rule-change cycle.
Understandingly, the cycle allows FIH to discuss, test and implement new rules and at the time provide teams a chance to get accustomed to the rules and merge them with tactics that best provide goal-scoring opportunities.
"Before an Olympic or World Cup year, we provide a two-year (cycle) for rule changes then all the teams will have time to prepare for tournaments," he said.
More importantly, Von Reth feels that the time provides better understanding of any new rules or changes that come into play for umpires as well.
"There is more time for interpretation and clarifications but it won't influence the wording of the rules," he said.
Source: Eddie dos Passos/Singapore Hockey Federation